in The culture edit, anything but fashion
ARTIST Dominique Renson first met Roland Mouret at a party 20 years ago - a meeting that developed into friendship that Mouret says "helped define me as a person". From starting out as just a fan of Renson's candid portrait paintings, the designer has since posed with and without clothes for his friend, invested in several pieces himself and is currently hosting a month-long exhibition of her work in his Carlos Place store.

"There was this attraction straight away," Mouret told us. "She discovered me really. There is a rawness in the complex city of the emotions she portrays in her work. She questions private matters. Over the years I've known her, I've been in different relationships and she would, at different moments - both happy and sad, tell me 'this moment is special' and then recreate that moment on canvas. It's a very modern way of painting. She captures layers of life and humanity."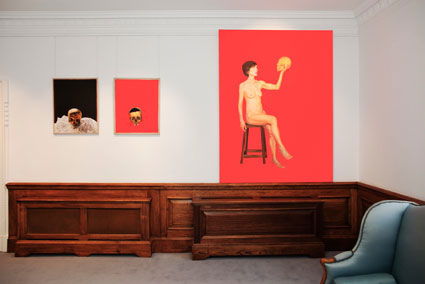 Renson, who is based in Paris, has also created a portrait of designer Rick Owens, French actress and photographer Catherine Robegrillet and head of PPR America Laurent Claquin.

"I went from clothes to no clothes," said Mouret. "We have been neighbours for five or six years, so we were very open minded about it all. Nudity is not a problem when you work in fashion. You just go for it. It was very much about seeing a true reflection of yourself and accepting what you don't like. Sitting for Dominique is like going to a psychiatrist, only much better!"
Both Renson and Mouret felt his London store was a perfect location in which to showcase the work.

"We wanted the art to feel like a part of the furniture," said Mouret. "When art is exhibited in a gallery, it changes the atmosphere. At the store Dominique's work is part of the setting. She liked the idea of being an artist in residence, showcasing her work in Mayfair where there are so many galleries but not showing in one herself."